Domaine Denis Mortet was formed in 1992 on the retirement of Charles Mortet in 1991, who divided his Estate between his two sons; Denis and Thierry. Starting with just 4.5ha Denis build the estate to over 11ha including both owned and under tenancy. From the start Denis developed strong relationships and was highly influenced by Henri Jayer and Lalou Bize-Leroy.
Denis was a gifted viticulturalist with meticulous attention to detail working with very low yields and severe fruit selection resulting in rich and seductive wines with harmonious and elegant textures. The Domaine developed the reputation as one of Burgundy's very best and the wines quickly became some of the most sought after by all lovers of the very top Burgundies. Tragically, Denis took his own life in 2006, but his work has been continued by his son Arnaud, daughter Clémence and wife Laurence.
We are delighted to offer an incredibly rare vertical of Chambertin from just a 0.15ha plot with an average annual production of just 750 bottles. Denis crafted one of the greatest examples from this hallowed vineyard, epitomising the very best characteristics and now between 20-25 years these are just about reaching perfection.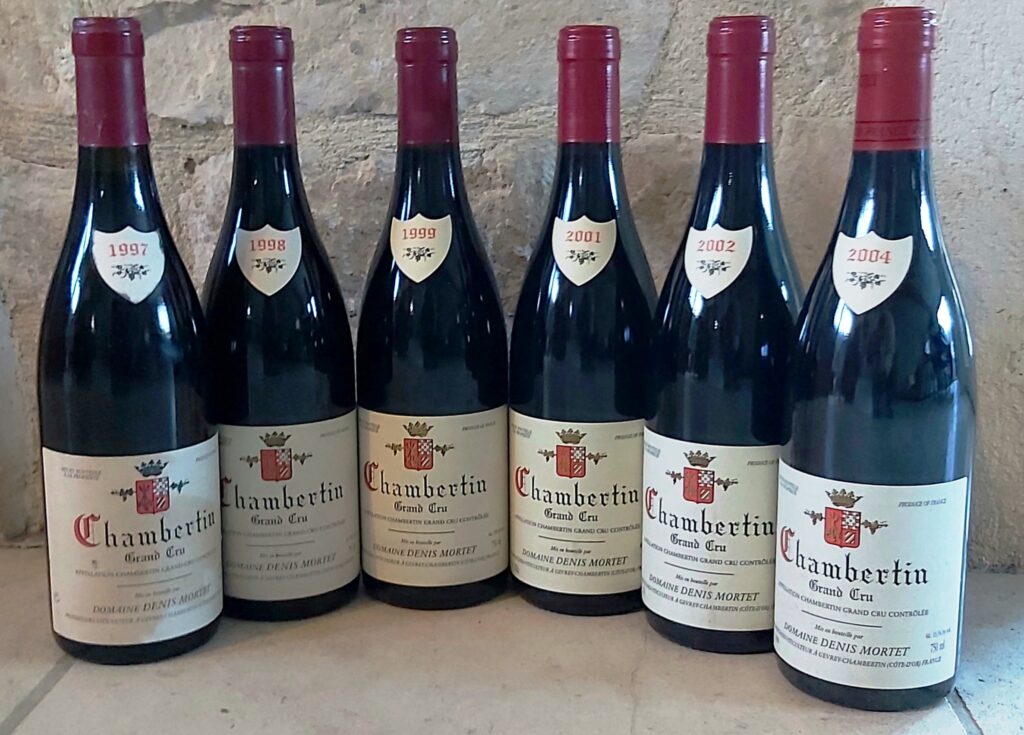 1x 1997 Chambertin €1,400
At the time, Denis thought this was the best ever Chambertin he had produced surpassing 93, 95 & 96. Impressive combining red and black fruits with Asian spices along with a supple texture.
1x 1998 Chambertin €1,600
A great success the 98 is a hedonistic example with great depth of spicy dark berry fruits. Rich, round and seductive
1x 1999 Chambertin €2,000
A beautiful, classy Chambertin with succulent, sweet, ripe fruits and touches of spice. Ample, yet elegant and now showing tremendous finesse.
1x 2001 Chambertin €1,700
An outstanding Chambertin combining power and elegance with concentrated, spicy dark fruits allied with a generous and elegant texture.
1x 2002 Chambertin €2,000
A thrilling Chambertin and about as good as it gets. Expansive and spicy red berry fruits, it is focused with great precision yet, round and elegant. Seriously impressive!
1x 2004 Chambertin €990
One of the very top 2004's with gorgeous and intense red fruits and spices. Seductively textured and incredibly harmonious
Special price for 6-bottle parcel: €8,700
All prices are in Euros and offered Ex Puligny Montrachet (excluding taxes and shipping)
All wines are offered subject to remaining unsold